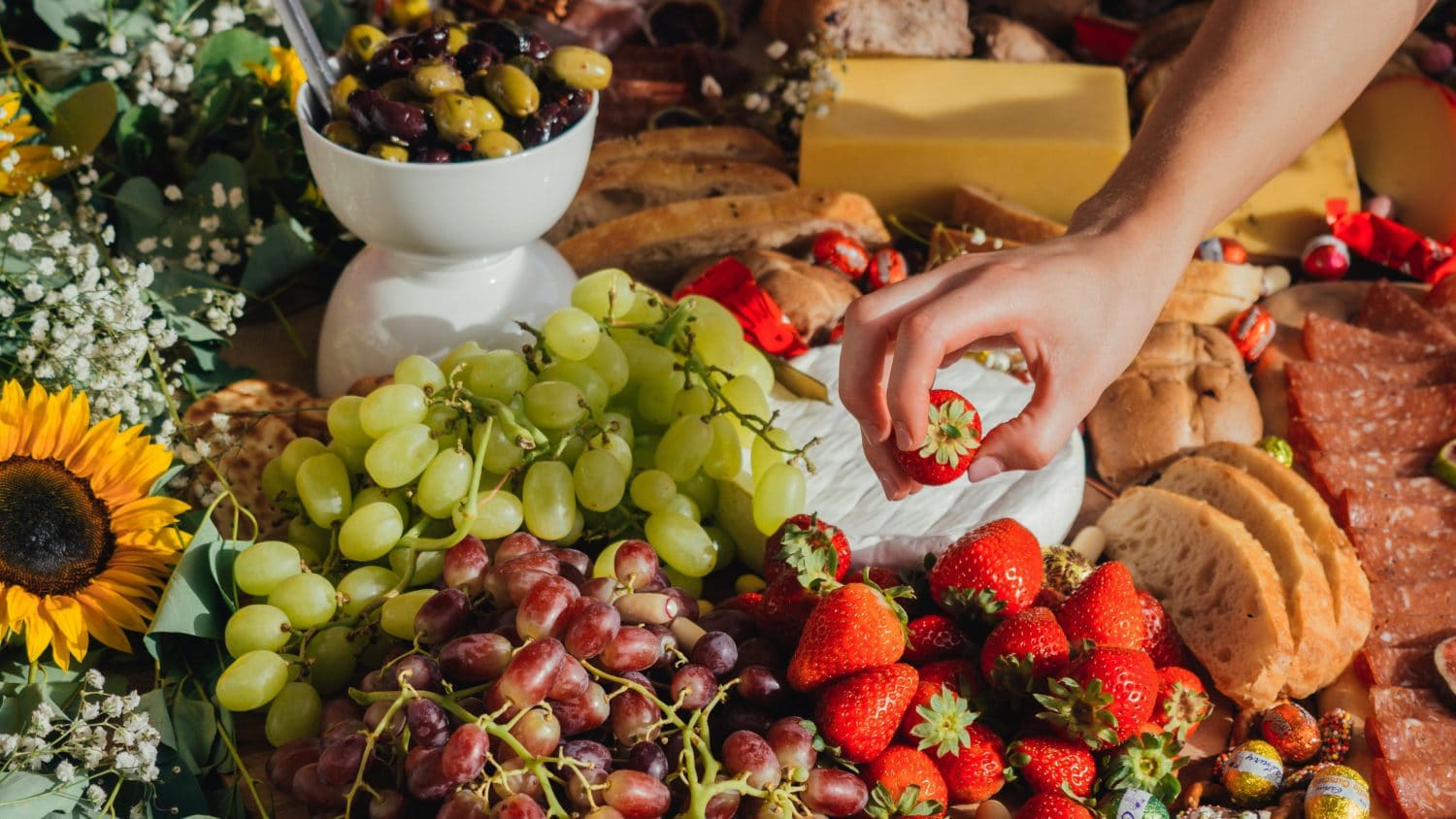 This time of year many moms are busy in the stocking up phase, from gathering up school clothes and lunch boxes to helping their kids who are leaving home find a mini-fridge for their dorm or apartment.
When my son was little, sure, I had the list of recommended notebooks, flashcards and markers, but I had to figure out the options for healthy lunches and snacks on my own. Then, when he went off to college, my focus changed: What suggestions could I make, without nagging or being pushy, that would help him make healthy choices away from home?
It may be surprising to consider how many kids aren't getting the recommended number of servings of fruits, vegetables or dairy every day, just when their bones and muscles are growing the most. This is the time when their bodies need a variety of foods to get the essential vitamins, nutrients, protein, and calcium necessary to support their growth and development.
Since everyone is busy, I've gathered up a few tips here for healthy snacks, lunch box ideas and yes, even the mini fridge for moms with kids at every age and stage.

From Preschool to Middle School: Make it fun for Growing Bones!
This is a time when many kids take picky eating to new and frustrating levels for parents. It's normal and natural for your child to refuse most of what you offer them. Here's a secret, don't turn meals and snacks into power struggles, remember that this is just a stage and I promise you, they will grow out of it, so make meals and snacks fun, whimsical and nutritious.
When thinking about nutritious eating, every parent wants their child to reach their full potential, which is why offering plenty of calcium-rich dairy foods is particularly important now as children's bones, teeth, muscles, and nerves are growing and developing at a rapid pace.
A child's bones are different than an adult's. Their bones are growing longer and becoming more thick, dense and stronger as they grow toward adulthood. Milk, cheese, yogurt, and other calcium-rich dairy products provide protein, Vitamin D and calcium. All of these benefits are essential building blocks for bones and teeth, while also providing the nutrients muscles and nerves need to work.
Daily Dairy Recommendations for Children
From ages 1 – 3: Children need 700 mg of calcium = 2 servings of dairy/day
Between 4 – 8: Children need 1,000 mg of calcium = 2 – 3 servings of dairy/day
Between 9 – 13: Children need 1,300 mg of calcium = 3 servings of dairy/day
A serving of dairy = 1 cup of milk or yogurt or 1 ounce of cheese
Tips for Healthier Nutrition: School Age Children
How do you help your child make healthier choices? Remember at this stage your child has a lot of magical thinking, they love to open things up and they get overwhelmed with too many choices.
Many a child who refused a plate of cheese and fruit will happily eat them when presented on a frilly toothpick. Yes, it can be that easy! Kids this age love to dip their food into sauces, and it's even more fun if they can use a fun "grown-up" toothpick.
Ideas for home or lunch boxes:
Cheese cubes on frilly toothpicks
Drinkable yogurt
String cheese roll-ups with sliced turkey or ham, offer with a honey mustard dipping sauce, in a separate container
Glasses of milk presented with colorful straws for everyone in the family
Open-faced toasted cheese sandwiches cut into shapes with cookie cutters
Small Mozzarella cheese balls with cherry tomatoes on a small skewer
Creamy yogurt-based dipping sauces
Teens
This is one of the most critical times for bone growth. Bones are reaching their peak bone mass in the teen years, which is why dairy is more important now than ever. Many teens are active in sports, dance and other activities that require not only strong healthy bones but also healthy muscles and nerves. Milk, yogurt and cheese provide 9 essential nutrients, including calcium and Vitamins A, D, B2, B3, B12. All of these are essential for strong bones. Then there's protein for muscle growth and repair, phosphorus which helps our bodies use energy and magnesium for muscle functioning.
Daily Dairy Recommendations for Teens
Teens 14 – 19 need 1,300 mg of calcium each day which = 3 servings of dairy/day
Tip for Healthier Nutrition: Make it On the Go
While we're concerned about their nutrition, that's not top of mind for them right now, they have lots of other things vying for their attention. Teens need 3 servings of calcium-rich food as well as protein, so as parents, we can help them with foods that are tasty, convenient and nutritious and the key phrase might be: "Grab and Go."
Quesadillas – These yummy treats can be you and your teen's best nutritional friends because cheese is loaded with protein, which teens need for both strong bones and muscles. Look for a cheese that melts easily such as Mozzarella, Jack, Cheddar and Hispanic-style cheeses like Panella, Queso Blanco, and Cotija.
Drinkable Yogurts – With a lot of flavors, drinkable yogurts are a tasty way to help your teen get the calcium, protein and other nutrients they need. They can easily down between classes, before a practice or on their way to school and they don't need a spoon.
Cheese sticks – This is the time to stock up. Not only are cheese sticks packed with nutrients, but there's also plenty of varieties so no one gets bored.
Serve milk at dinner – Just pour a glass for everyone in the family, so drinking milk every night becomes a routine.
College Students
There's so much you want to communicate to your child as they venture forth into the next stage of their life. Making new friends, studying and learning how to do laundry. You name it, there's so much that they'll experience.
One area that you may be concerned about is their meal plan, what they'll eat when they're away from home and how you can gently remind them to have a balance of nutrients. Most kids in college are still building bone mass. In fact, most will reach their peak bone mass by age 25. This is the time when calcium-rich dairy is important for long-term bone health and reducing the risk of fracture as an older adult.
Mini Fridge Must Haves
Right now, it's all about encouragement, validation, and support, however, it's ok to add in a few hidden suggestions. Remember that your example at home is key now, so offering up lots of healthy choices, such as drinkable yogurts, string cheese and having plenty of cereal and milk available this summer as they pack can instill these healthy habits in their routine.
Find out if there's a small market on campus or nearby where they can buy healthy snacks. Pose your suggestions as questions, such as, "Have you thought about maybe stocking up on string cheese or yogurt for when you get sick of chips and pretzels?" or "Is there a place to get smoothies on campus?"
Our bodies always need plenty of healthy, calcium-rich foods for every age and stage. I hope these suggestions have been helpful.
Disclosure: I'm working with the California Milk Advisory Board to help educate parents and health care providers about the benefits of real dairy.